#WOJENNYDZIEŃ – THE NOVEMBER 13th TRANSFORMATION OF THE ' SERVICE FOR THE VICTORY OF POLAND' INTO THE 'UNION OF ARMED STRUGGLE'
On November 13th, 1939, under the order of the Commander-in-Chief, General Władysław Sikorski, the 'Service for the Victory of Poland' (SZP) was transformed into the 'Union of Armed Struggle' (ZWZ). This was to be the only underground military organization in the occupied country. General Kazimierz Sosnkowski, based in France, was chosen as the commander-in-chief.
The Union of Armed Struggle was established on the basis of the SZP, which began its existence from September 27th, 1939. The purpose of establishing the ZWZ was to unite the various national underground organisations dispersed throughout the Polish territories occupied by the Germans and Soviets. The Commander-in-Chief was also in favor of separating the civil and military structures.
According to the instructions of the commander of the ZWZ, General Kazimierz Sosnkowski, the organisation was to be a "national, cross-party and supra-state organization, gathering in its ranks, regardless of differences in political and social beliefs, all righteous Poles who want to fight with arms against the occupiers, under the conditions of underground work and which will be responsible in all respects for the high moral demands of this work on behalf of the individuals".
The aims of the ZWZ included, among other matters, informing the public about the present state of the political situation as well as gathering together all military resources. However, the main mission of the ZWZ was to organize a general uprising that would lead to independence. This meant that, apart from the combat tasks it carried out, the organisation of the training of young soldiers was equally as important. As early as 1940, the 'Union of Retaliation' was established as part of the ZWZ, which undertook sabotage and sabotage actions in the occupied country, and in 1941 an armed organization code-named 'Wachlarz' was also established.
Gallery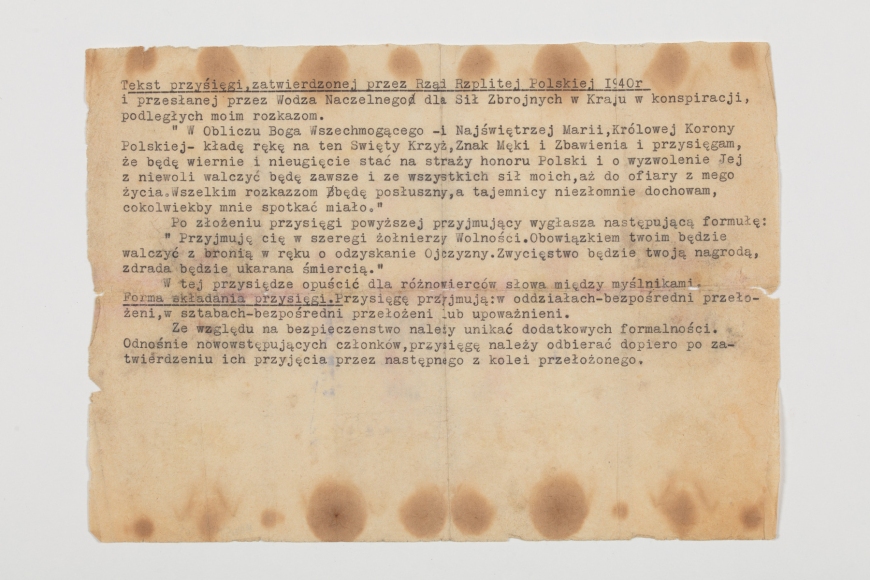 Dokument zawierający tekst przysięgi oraz instrukcję postępowania dla osoby zaprzysięgającej nowego członka ZWZ. 1940 r. (MIIWŚ)